Commissions
How to commission an Oil – Painting: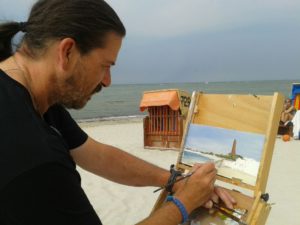 Do you need an individual and therefore unique painting from a special place? For example, as a gift for someone special? Or did you find a painting on my website that you really like? But maybe it has already been sold or it's the wrong size for your purposes?
Then place a commission for a painting according to your wishes. The process is very simple. First of all, we will talk with each other about your wishes and requirements, e.g .:
– Topic
– Size
– budget
After that, you will be given a series of sketches. After we agreed on the design, I will start with the real painting in the size you want. You will receive regular reports from me on the current status of your commissioned work, as well as the targeted time of completion.
After completing the painting, I will make a high-resolution picture and send it to you. After your approval, the painting will be sent to you.
My paintings are painted on high quality fine linen and shipped in a custom made box. This ensures that your work of art arrives in perfect condition.
Payment terms: Initial 50% deposit by bank transfer. The full balance is due once the final image has been approved by you. The dispatch takes place after full payment. Shipping is free of charge within Germany.
For foreign customers, payment is made via an international electronic bank transfer. Shipping usually takes 5 working days.
I am pleased that you are interested in my work and look forward to realize your commission.